marcolazzara.com
«Larrara's one of the most amazing voices of any kind i've encountered»
David Mason Greene - Fanfare N.Y.
Marco Lazzara started his musical studies whilst still a child and precociously obtained diplomas in Piano, Organ, Harpsichord and Operatic singing, perfectioning himself for three years at the Accademia Chigiana of Siena.

Since his debut in 1989, national and international critics have shown great interest in him, for his particular vocal register, his musicianship and his versatility in music styles which have allowed him to interpret not only baroque repertoire but also romantic and contemporary repertoires.

«Lazzara's is one of the most amazing voices of any kind I've encountered. It is a powerful sound that virtually defines the term "alto", whatever the sex.»
David Mason Greene - FANFARE N.Y.

«...Marco Lazzara ne me fait jamais regretter la pre'sence d'une voix feminine. Ici pas de chant mignard et poudre' : une vraie voix de contralto, plaine, vibre'e, virtuose, qui ose des graves vertigineux, qui hurle jamais dans l'aigu, qui posse'de le trille... on ne peut qu'e'couter cela e'bahi et interdit.»
J. Claude Laccroix - OPERA INTERNATIONAL PARIS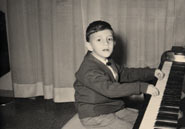 As such he has taken part in various world premières of contemporary composers such as F. Vacchi, G. Manzoni, G. Kancheli, S. Battistelli, A. Corghi, A. Guarnieri; the Faust Cantata by A. Schnittke conducted by V. Fedoseyev and V. Yurowski, the Italian prémière of the A. Reimann's Lear conducted by A. Fagen and directed by L. Ronconi, with the presence of the composer.
He interpreted Carmina Burana by C. Orff conducted by D. Robertson, R. Gandolfi, B. Bartoletti and F. Luisi.

He has interpreted a lot of Italians baroque operas included the operatic repertoire by G.F.Haendel , Moro per amore by A. Stradella, Orfeo ed Euridice by C.W. Gluck, ( first performer in Italy ) Il Tito by M.A. Cesti. Among his XIX century repertoire we can mention Die Fledermaus by J. Strauss, Orphée aux enfers by J. Offembach, Ginevra di Scozia by S. Mayr.

He has taken part in important international festivals and he sung in numerous recitals at the Liceu of Barcelone, Opéra comique in Paris, Staatsoper in Hamburg, Carnegie Hall in New York, at Covent Garden in London, Opéra national du Rhîn, Salle Pleyel in Paris, Il Teatro alla Scala, Teatro comunale in Bologna, Teatro Verdi of Trieste, The Lingotto Auditorium of Torino, Suntory Hall in Tokyio, the Carlo Felice of Genova, Santa Cecilia in Rome.

He has sung live and recorded for all the most important European television channels and has often been guest at the BBC, where he has recorded recitals interpreting romantic music, in particular by C. Debussy, O. Respighi, G. Fauré, P. Mascagni. He has also recorded the soundtrack of the Italian movie Il mestiere delle armi directed by E. Olmi. He has recorded for labels such as Bongiovanni, Opera Rara, Nuova era, Arts, Ricordi, Dynamic, Brilliant Classics. His CD ARIE was prized by the Timbre de platine. He has taken part in the Pollini Project expressly invited by Maurizio Pollini.

He has been elected academician of the R. Accademia Filarmonica of Bologna.